Endangered Species Act Cannot be Used in Global Warming Response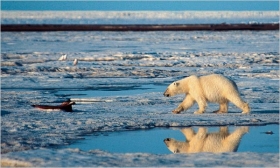 The Obama administration said Friday that it would retain a wildlife rule issued in the last days of the Bush administration that says the government cannot invoke the Endangered Species Act to restrict emissions of greenhouse gases threatening the polar bear and its habitat.

In essence, the decision means that two consecutive presidents have judged that the act is not an appropriate means of curbing the emissions that scientists have linked to global warming.
The bear was listed as a threatened species under the act last May. But the special rule, adopted in December, said this designation did not give the Interior Department the authority to limit greenhouse gases outside the bears' Arctic range.
In announcing Friday that the rule would stand, Interior Secretary Ken Salazar said, "The single greatest threat to the polar bear is the melting of Arctic sea ice due to climate change." But, Mr. Salazar said, the global risk from greenhouse gases, which are generated worldwide, requires comprehensive policies, not a patchwork of agency actions carried out for particular species.
Article continues:  http://www.nytimes.com/2009/05/09/science/earth/09bear.html