Thinking About a Home Wind Turbine? Not So Fast!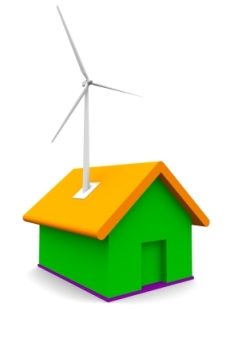 Residential wind turbines are an appealing option for renewable energy at home. Per rated unit of output they seem to be cost-effective, somewhat less than solar PV panels. Each successive new product is more attractive than its predecessors, with many as suitable for a sculpture garden as for your rooftop. And, there's something primal and satisfying about the thought of a spinning turbine in the yard, perhaps harkening back to the pinwheels of our youth. We've written previously about some of the most compelling residential-sized options that combine these benefits.
But before you put one at the top of your green dream list, make sure you read this article by Alex Wilson of Building Green. Mr. Wilson is one of the true giants in the green building field, and he's literally written the book on how to design and build a functional green home (and a good book it is - we highly recommend it!).
What he has found after talking to many testers, developers and manufacturers is that building-integrated wind turbines fall far short of their stated promise. Why? He points out a number of factors that result in poor wind turbine performance:
*  Buildings cause turbulence, and wind turbines don't like turbulence. Wind turbines are generally designed to face directly into a laminar (i.e. smooth) flow of wind. Predicted performance statistics are developed under these ideal conditions. But buildings and accompanying structures redirect wind, causing it to separate into streams that "confuse" wind turbines. This turbulence causes turbines to perform at less than their rated levels even if the building accelerates actual wind speed.
* Turbines can be noisy and cause vibrations. Although vertical axis wind turbines are significantly better, even today's latest wind turbines can create significant noise and vibrations. Part of this comes from the turbine itself, but another component is the oscillations (and associated resonance) that the turbines create in building structures.
* Actual performance is often much less than predicted performance. For a variety of reasons, small wind turbines mounted on buildings almost never produce as much energy as predicted. Mr. Wilson cites a conversation with Ron Stimmel, an executive from the American Wind Energy Association (the industry trade group), in which Mr. Stimmel says that he's never seen a small building-mounted wind turbine that achieves the expected performance. In many cases, actual performance was only 5-10% of predicted performance, and some systems generated less electricity than their control electronics used! This all leads to …
* High cost relative to other renewable energy sources. At face value wind turbines seem to be less expensive than PV and other forms of renewable energy (when you look at $ / watt of capacity). But when you factor in the higher cost of mounting a turbine on a building combined with the poor performance mentioned above, solar PV ends up being a more economical choice.
We're sure that technological advances will continue, and that innovative wind turbine manufacturers will develop better turbines for buildings in the future. But until then, proceed with caution. As much as you might want a wind turbine spinning away on your San Francisco (or Boston) home, they're probably still best suited for a ranch in Montana!
This article is reproduced with the kind permission of Low Impact Living. For more news and information visit: www.lowimpactliving.com.