California utility company PG&E expands solar power plans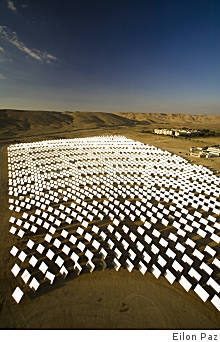 Pacific Gas and Electric Co. and a young Oakland company on Wednesday signed what may be the world's largest solar deal, one that will create a string of seven solar power plants generating enough electricity for 530,000 homes.
BrightSource Energy of Oakland will build the plants in the Southern California desert and sell the power to PG&E for an undisclosed amount of money. Fields of mirrors at each plant will focus sunlight on centralized towers, boiling water within the towers, creating steam and turning turbines. The first plant could open in 2012 at the Ivanpah dry lake bed in San Bernardino County.
California law requires the state's electrical utilities to get 20 percent of their power from renewable sources by the end of 2010, although they have three more years to comply if necessary. PG&E has been frantically signing contracts with solar and wind companies, even agreeing to buy power from a startup that wants to build large solar arrays in space. But the credit crisis may kill or delay some of those projects.