Desalination plant clears final California hurdle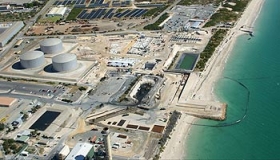 LOS ANGELES (Reuters) - The biggest seawater desalination plant in the Western Hemisphere, north of San Diego, can begin construction by year's end after a six-year effort to win regulators' approval, the developer said on Thursday.
The San Diego Regional Water Quality Control Board voted unanimously on Wednesday to approve permit revisions for the $300 million facility, which will produce 50 million gallons of drinking water daily, enough for 110,000 households.
That volume represents about 10 percent of the drinking water needs of San Diego County, home to roughly 3 million people in a region facing freshwater shortages due in part to a prolonged drought.