Astronauts complete tricky Hubble surgery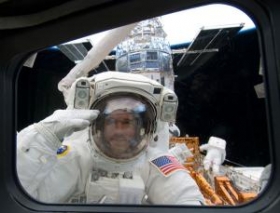 In an orbital first, astronauts opened up and installed new electronics on one of the Hubble Space Telescope's most important instruments on Saturday. But NASA must now wait for the results of a battery of tests to see if the ambitious repair job was a success.
The space shuttle Atlantis is currently orbiting Earth on an 11-day mission to refurbish Hubble and extend its life until at least 2014. This is the fifth and last mission to service the telescope, which NASA hopes will leave Hubble with its best vision yet.
After two days of spacewalks that ran over-schedule, astronauts John Grunsfeld and Andrew Feustel made short work of the repair of Hubble's Advanced Camera for Surveys (ACS), expected to be one of the most challenging tasks of the mission.
The instrument, which is actually a set of three cameras, or "channels", was one of Hubble's most widely-used devices, producing some of the telescope's most breathtaking images. But a series of electrical problems in 2006 and 2007 left it with just one working channel, sensitive to ultraviolet light.
The ACS was not designed to be repaired in orbit. To access the camera's interior, Grunsfeld had to use specialised tools to cut through a screen-like grid protecting the instrument and remove 32 screws to open a face plate. Once inside, Grunsfeld removed four circuit boards and installed a specially-designed electronics box and an external power supply.
Article continues: http://www.newscientist.com/article/dn17151-astronauts-complete-tricky-hubble-surgery.html?DCMP=OTC-rss&nsref=online-news