Carbon capture success in Wisconsin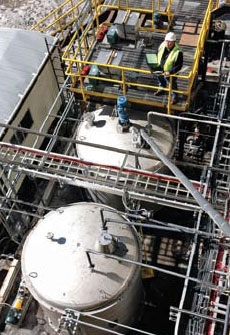 Capturing the carbon dioxide that wafts up the smokestack after burning coal (or any other fossil fuel) has been identified by everyone from President Obama to the United Nations Intergovernmental Panel on Climate Change as a critical technology to help keep the lights on while combating climate change. And now there has been yet another successful demonstration that the technology to capture that CO2 from flue gas might actually work: chilled ammonia can capture more than 88 percent of the greenhouse gas before it goes up the smokestack.
Alstom Power and We Energies have released preliminary data on their carbon capture pilot project at Pleasant Prairie, Wisc. The pilot plant, set up to siphon the CO2 from a small stream of the total flue gas using chilled ammonia, not only captured most of the CO2, it captured it in a more than 99 percent pure form, according to Robert Hilton, vice president of power technologies and government affairs at Alstom, which is important for any future storage or industrial reuse. "We can [capture] 90 percent [of the CO2] and do it consistently," he notes. "We've done over 90 percent at times."
So far the project has run some 4,600 hours continuously without issue and captured some 18,000 tons of CO2 over the last year.