Alcoa Reaches Into Past for Building Energy Efficiency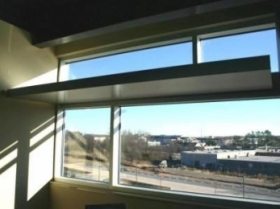 Kawneer, the 100-plus-year-old architectural and building products division of Alcoa, is experiencing an uptick in sales in what arguably are two of the oldest technologies on the market: windows that open and light shelves.
Windows that open don't need a lot of description. You probably have some at home. U.S. office buildings, however, largely eliminated them decades ago in an effort to (1) reduce liability and (2) better control the interior climate.
Rising power costs, along with a growing desire among office workers to get away from canned air, are bringing them back, according to Eddie Bugg, director of sustainable solutions at Kawneer. These "operable windows" are also connected to sensors that will shut off the air conditioning in a specific room to help ensure power bills can drop.