Clean Coal power project back on the burner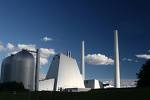 Energy Secretary Steven Chu announced on Friday plans to restart the country's first clean coal power project, scrapped by the previous Bush administration as too expensive.
Under an agreement with the non-profit FutureGen Alliance, the Energy Department will take the first steps toward developing the first U.S. commercial scale-carbon capture and storage project, to be located in Mattoon, Illinois.
"Not only does this research have the potential to reduce harmful greenhouse gas emissions in the U.S., but it also could eventually result in lower emissions around the world," Chu said.
The FutureGen project was scrapped by the Bush administration due to a ballooning price tag of some $1.8 billion. But a congressional report released in March accused the Bush administration of inflating the cost in order to scrap the project.
President Barack Obama and other Illinois politicians have expressed support for the project in their home state.
"For nearly a year and a half, the people of Illinois have endured delays, reversals and disagreements over costs and funding of FutureGen," Illinois Senator Dick Durbin said.
"Today, patience and perseverance pay off -- FutureGen at Mattoon is finally ready to move forward," he said.
Article continues:  http://www.reuters.com/article/environmentNews/idUSTRE55B3WU20090612?feedType=RSS&feedName=environmentNews