House passes landmark climate change bill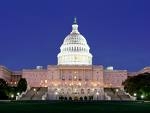 President Barack Obama scored a major victory on Friday when the House of Representatives passed legislation to slash industrial pollution that is blamed for global warming.
The Democratic-controlled House passed the climate change bill, a top priority for Obama, by a vote of 219-212. As has become routine on major bills in Congress this year, the vote was partisan, with only eight Republicans joining Democrats for the bill. Forty-four Democrats voted against it.
Climate change legislation still must get through the Senate. Senators were expected to try to write their own version but prospects for this year were uncertain.
After the House vote, Senate Majority Leader Harry Reid said he hoped the Senate can pass a bill "this fall."
Obama praised the House for taking "historic action" and urged the Senate to act. "It's a bold and necessary step that holds the promise of creating new industries and millions of new jobs, decreasing our dangerous dependence on foreign oil," Obama said.
Article continues: http://www.reuters.com/article/environmentNews/idUSTRE55O4R120090627?feedType=RSS&feedName=environmentNews