IBM and Cisco to Help Amsterdam Become a 'Smart City'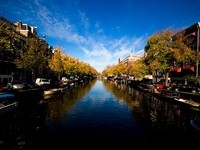 AMSTERDAM, NL -- IBM and Cisco will help the City of Amsterdam in its quest to become the European Union's first "smart city."
The Smart City pilot project will serve as a testing ground to prove that smart grid technologies can better manage energy use and transmission while also reducing electricity outages and congestion. A slew of small-scale projects target four areas: working, living, mobility and public space.
Amsterdam's pilot program is one of a string of announcements from technology companies jumping into the smart grid fray. Google, for instance, has partnered with GE to lobby the government to push for smart grid support, while also teaming with utilities to bring energy monitoring to businesses and residences.