Treating Ballast Water Could Fight Invasive Species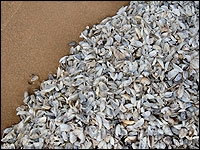 Ships that transport goods around the world are carrying some dangerous stowaways.
Tiny organisms travel from port to port in a ship's ballast water. And some of them have become invasive species, wreaking havoc in waters around the world.
So scientists are testing ways to kill these potential invaders before they can escape.
One place that sort of testing takes place is on the Cape Washington, a 700-foot cargo vessel moored in the Chesapeake Bay near Baltimore.
"The Chesapeake is a perfect place for this work," says Mario Tamburri, a researcher at the University of Maryland and director of the state's Maritime Environmental Resource Center. He estimates that at least 150 nonnative species have become residents of the Chesapeake Bay — most probably arriving in ballast water.