Think H1N1 Is Bad Now? Wait Till Flu Season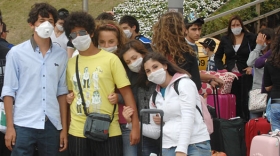 When the World Health Organization announced on July 16 that it would stop issuing global counts of confirmed cases of the H1N1/09 virus (the new WHO-approved name differentiates the virus from older versions of H1N1), it wasn't because the disease had burned out. Far from it.
Since the new flu virus was officially declared a pandemic on June 11, the disease has spread faster in six weeks than past pandemics had spread in six months. Virtually every nation in the world has been infected, with the U.S. alone — which has 263 confirmed deaths, more than any other country — estimated to have logged more than 1 million cases. Although the good news is that most H1N1/09 illnesses have been extremely mild, the rapidity of its spread — and the fact that young people seem to be especially vulnerable — still worries global health officials. "We don't know if it will actually ever completely go away," says David Butler Jones, the public health chief of Canada, which has been unusually hard-hit. "We're still seeing new cases, so nobody should let down their guard." 
The real test will come in the fall, however, when the Northern Hemisphere's flu season returns with a vengeance. (Southern Hemisphere nations are currently in the early weeks of their flu season, and H1N1/09 has caused real trouble in Argentina, which has more than 130 confirmed deaths — second only to the U.S.) There is always a chance that the virus could become more virulent when it returns in the fall — just as the deadly 1918 pandemic did. Key to the world's defense against the flu will be an effective vaccine, and vaccine companies have been gearing up to produce hundreds of millions of doses. Production is already under way, with the Australian drug company CSL this week becoming the first manufacturer to begin testing a vaccine in human subjects. "Things are proceeding well," says Jesse Goodman, the chief scientist and deputy commissioner of the U.S. Food and Drug Administration.