EU sets new ecodesign rules for freezers, TVs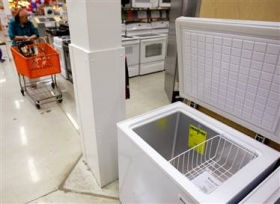 The European Commission on Wednesday targeted industrial motors, television sets, refrigerators and other appliances with new eco-design rules aimed at improving energy efficiency.
The Commission said four eco-design regulations that included circulators, found in buildings' boiler or heating systems, and freezers will save about 190 Terrawatt-hours (TWh) of electricity per year by 2020 if fully implemented.
This is comparable to the combined annual electricity consumption of Sweden and Austria, the Commission said.
"It will save impressive amounts of electricity, CO2 emissions and electricity costs, while creating jobs," EU Energy Commissioner Andris Piebalgs said in a statement.