Hubble captures rare Jupiter collision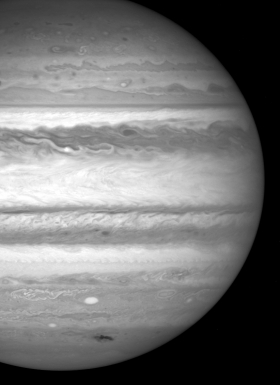 NASA used the newly upgraded Hubble telescope to photograph Jupiter two days ago. The Hubble picture, taken on 23 July, is the sharpest visible-light picture taken of the feature and is Hubble's first science observation following its repair and upgrade in May. Observations were taken with Hubble's new camera, the Wide Field Camera 3 (WFC3).

"This is just one example of what Hubble's new, state-of-the-art camera can do, thanks to the hard work of the astronauts and the entire Hubble team", said Ed Weiler, associate administrator of NASA's Science Mission Directorate. "Fortunately, the best is yet to come!"
Discovered by Australian amateur astronomer Anthony Wesley on Sunday, July 19, the spot was created when a small object plunged into Jupiter's atmosphere and disintegrated. The only other time in history such a feature has been seen on Jupiter was 15 years ago.
"Since we believe this magnitude of impact is rare, we are very fortunate to see it with Hubble", added Amy Simon-Miller of NASA's Goddard Space Flight Center. She explained that the details seen in the Hubble view show a lumpiness to the debris plume caused by turbulence in Jupiter's atmosphere. The spot is presently about twice the length of the whole of Europe.
Simon-Miller estimated that the diameter of the object that slammed into Jupiter was at least twice the size of several football fields. The force of the explosion on Jupiter was thousands of times more powerful than the suspected comet or asteroid that exploded over the Tunguska River Valley in Siberia in June 1908.
The Hubble Space Telescope is a project of international cooperation between ESA and NASA.
For more information: http://www.spacetelescope.org/news/html/heic0909.html