Endangered Kashmir deer in comeback as violence dips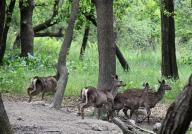 n endangered species of red deer found only in Kashmir has made a rapid comeback in the past year due to a decline in violence and conservation efforts, wildlife officials said on Tuesday.
The population of the hangul, also known as the Kashmir stag, is now estimated to be between 201 and 234, against 117-180 in March 2008, according to a census.
An anti-India insurgency that broke out two decades ago in the disputed Himalayan region ruined the habitat of the red deer, killed for its meat by both rebels and security forces. The deer were estimated to number around 900 when fighting first erupted.
Wildlife guards say poachers also killed the deer for its meat and antlers, which fetch high black market prices. Worst hit were its chief breeding ground in the upper reaches of Dachigam Sanctuary near Srinagar, the summer capital of Jammu and Kashmir.