Spreading Lionfish Invasion Threatens Bahamas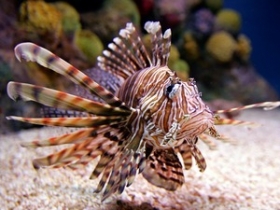 In 1992, Hurricane Andrew smashed an aquarium tank in Florida. About a half-dozen spiny, venomous lionfish washed into the Atlantic Ocean, spawning an invasion that could kill off local industry along with the native fish.
People come to the Exuma Islands in the Bahamas to kayak between tiny, uninhabited islands and dive in the shallow, turquoise water. Above the water, the landscape looks like a pristine tropical paradise. But the same isn't true beneath the waves.
"In 2005, the first lionfish showed up, and we didn't pay much attention to it," says Oregon State University zoology professor Mark Hixon, who has studied reef fish here for almost two decades. "The next year, we saw a few more. Then in 2007 there was a population explosion. There were so many lionfish around that they were eating the fish we were studying, and we had to start studying the lionfish. There was nothing else to do."
Lionfish are native to the Indian and Pacific oceans. But in the past few years, they've spread up the Eastern seaboard and throughout the Caribbean. The Bahamas have been hit the hardest.