Carbon Tracking Market Set to Take Off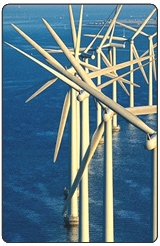 A growing list of companies, from tiny start-ups to some of the world's biggest corporations, is investing in products that will help them cash in on a mad dash for businesses to track their carbon footprints.
Giant software concerns Microsoft Corp and SAP AG along with U.S. manufacturer Johnson Controls Inc and UK-based carbon offset firm Camco International Ltd ,are among those piling into what is now a small but fast-growing market for tools to measure environmental impacts.
Until now, companies eager to prove their green credibility have voluntarily measured the greenhouse gas emissions of assets and operations such as buildings, delivery fleets, employee travel and factories.
Corporate behemoths including Wal-Mart Stores Inc, Coca-Cola Co and Tesco Plc are among those that already track their carbon footprints, and Wal-Mart's announcement last month that it would measure the social and environmental impact of all the products it sells is sure to kick-start carbon measuring efforts by its 60,000 suppliers.
And while pressure from corporate partners will play some role in spurring development of the market, the specter of legislation is calling more and more companies to action.
"Tens of thousands of directors will realize their firms carry carbon assets and liabilities on the books and face shockingly large fines for failure to report emissions," a study this month by London research group Verdantix said.
More and more firms are snapping up carbon-measuring products in anticipation of a mandatory program in Britain called the Carbon Reduction Commitment (CRC) that forces some 5,000 businesses to cut their emissions and reduce energy consumption starting next year. In addition, many expect a similar program in the United States won't be far behind.
Article continues: http://www.wbcsd.org/plugins/DocSearch/details.asp?type=DocDet&ObjectId=MzUzMDM