Advocates Renew Calls for Large-Scale Restoration of La.'s Coastal Wetlands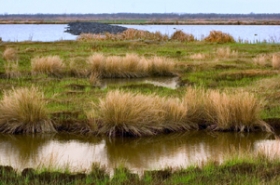 Four years after Hurricanes Katrina and Rita ravaged the Louisiana coast, federal and state officials are making little progress in restoring the state's storm-buffering coastal wetlands. Now, restoration advocates and scientists are increasing calls for a solution that takes advantage of the Mississippi River's natural land-building power by reconnecting the sediment-laden river to its sediment-starved delta.
A massive system of levees and canals, constructed since the 1930s to aid flood control and navigation, has made the mouth of the Mississippi River one of the nation's busiest ports. But the extensive plumbing works have also severed the river from its delta, disrupting natural processes that created the delta over thousands of years.
Historically, about 27,000 acres of wetlands and cypress forests served as a natural hurricane barrier, absorbing energy from tropical systems as they came ashore. But without the influx of mud and freshwater from the river, the state's once-extensive wetlands have slowly eroded, threatening wildlife habitat, fishing villages, ports and cities that now find themselves at the gulf's edge. Over the past century, scientists estimate Louisiana has shrunk by about 1.2 million acres -- and the losses continue at the rate of 32 football fields every 24 hours.