China Closes Smelter After 1300 Children Are Sickened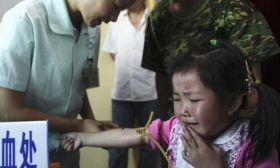 China has closed down a manganese smelter in the southern province of Hunan after more than 1,300 children living near it were found to suffer from lead poisoning, state media said Thursday, in the third metal contamination scandal in less than a month.
Authorities closed the Jinglian smelter in the town of Wenping and detained two executives after 1,354 children were found to have excessive lead in their blood, the New China News Agency reported.
The case has reminded parents of the government's apparent inability to protect their children from health hazards just a year after six babies died after drinking melamine-tainted milk powder.
The discovery of widespread melamine contamination in the milk supply that sickened more than 300,000 people last year shocked consumers and damaged the reputation of Chinese-made goods overseas. Many countries seized or banned imports of Chinese dairy products.