Summer Temperatures Lower Than Normal Over Most of US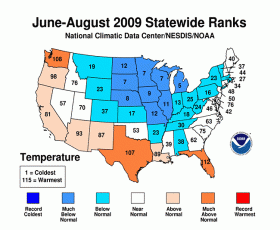 Global warming doesn't necessarily mean that temperatures are rising every year, everywhere. Superimposed on global trends are local and regional climate effects that may differ from global trends. For example, the average June-August 2009 summer temperature for the contiguous United States was below average – the 34th coolest on record, according to a preliminary analysis by NOAA's National Climatic Data Center in Asheville, N.C. August was also below the long-term average. The analysis is based on records dating back to 1895. 
Other notable data points include:
For the 2009 summer, the average temperature of 71.7 degrees F was 0.4 degree F below the 20th Century average. The 2008 average summer temperature was 72.7 degrees F.
A recurring upper level trough held the June-August temperatures down in the central states, where Michigan experienced its fifth, Wisconsin, Minnesota, and South Dakota their seventh, Nebraska its eighth, and Iowa its ninth coolest summer. By contrast, Florida had its fourth warmest summer, while Washington and Texas experienced their eighth and ninth warmest, respectively.
The Michigan, Wisconsin, Iowa and Minnesota region experienced its sixth coolest summer on record. Only the Northwest averaged above normal temperatures.
There were more than 300 low temperature records (counting daily highs and lows) set across states in the Midwest during the last two days of August.
A total of 7,975 fires burned 1,646,363 acres in August, according to the National Interagency Coordination Center. August 2009 ranked fifth for the number of fires and sixth for acres burned in August this decade. From January through August, 64,682 fires have burned 5.2 million acres across the nation.
Image shows the rank of temperature deviation by state. What is notable, is that the mid-continent shows the greatest deviation towards cooler conditions. This could perhaps be caused by the jet stream being south of its long term average position, bringing more arctic air to the continental US.
For more detailed information: http://www.noaanews.noaa.gov/stories2009/20090910_summerstats.html