Boots on the Roof Offers Green Job Training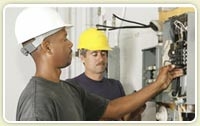 The interest in creating green jobs at the state and federal level has not diminished, nor has the interest by job-seekers in finding a green job. California recently announced $75 M in training for green job programs. Community Colleges in Oregon found that green job training was one of the fastest growing and most requested offerings their industry was seeing, despite the gloomy economic outlook.
The need for green job training is clear. Wind and solar provide limitless free energy. When compared to the costs of producing electricity by burning coal, there are higher up front costs of setting up renewable energy like wind, solar, and geothermal. But the ongoing cost is considerably less, as the 'fuel' is plentiful and free. Workers also benefit with jobs that are harder to export than manufacturing and other sectors.
A number of organizations are setting up green job training in their communities. Boots on the Roof is an organization founded by two groups of people: experienced green businesspeople and professional educators. This convergence is one of Boots' strengths, as students receive training from qualified industry professionals at the same time as professional educators that can help enhance the learning experience.
While accreditations are still lacking for many 'green jobs', Boots recognizes this and is currently teaching their curriculum to the most likely eventual criteria for standards and certifications. This focus allows Boots to stay up-to-date in terms of its offerings, while still giving students what they'll need to handle a fast-changing discipline.
Boots is focusing its teachings for general contractors, electricians, plumbers, construction workers, and environmentalists. It offers an online course in PhotoVoltaic Design, as well as 5 and 6 day 'boot camps' for solar and wind energy training and solar thermal development, and seminars and classes in green building certifications.
Article was reproduced from Triple Pundit.