Killer Whales Die Without King Salmon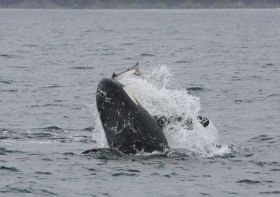 Some killer whale populations favor king salmon so much that the whales will actually die when numbers of this largest member of the salmon family drop, according to new research.
The study, published in the latest Royal Society Biology Letters, suggests that although killer whales may consume a variety of fish species and mammals, many are highly specialized hunters dependent on this single salmon species.
Lead author John Ford explained to Discovery News that "nutritional stress" probably leads to killer whale deaths because it can make the whales "susceptible to other factors leading to mortality, such as disease and parasitism," and possibly also more vulnerable to the "immuno-suppressive effects of PCBs" and other ocean pollutants.