Dust storm blankets Sydney as drought bites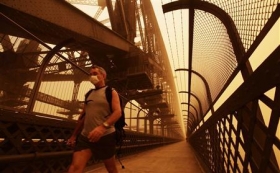 SYDNEY (Reuters) - A huge outback dust storm swept eastern Australia and blanketed Sydney on Wednesday, disrupting transport, forcing people indoors and stripping thousands of tonnes of valuable farmland topsoil.
The dust blacked out the outback town of Broken Hill on Tuesday, forcing a zinc mine to shut down, and swept 1,167 km (725 miles) east to shroud Sydney in a red glow on Wednesday.
By noon on Wednesday the storm, carrying an estimated 5 million tonnes of dust, had spread to the southern part of Australia's tropical state of Queensland.