Air Pollutants From Abroad A Growing Concern, Says New Report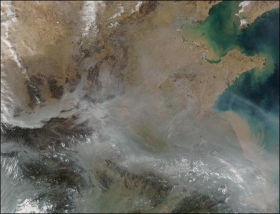 Plumes of harmful air pollutants can be transported across oceans and continents -- from Asia to the United States and from the United States to Europe -- and have a negative impact on air quality far from their original sources, says a new report by the National Research Council. Although degraded air quality is nearly always dominated by local emissions, the influence of non-domestic pollution sources may grow as emissions from developing countries increase and become relatively more important as a result of tightening environmental protection standards in industrialized countries.
"Air pollution does not recognize national borders; the atmosphere connects distant regions of our planet," said Charles Kolb, chair of the committee that wrote the report and president and chief executive officer of Aerodyne Research Inc. "Emissions within any one country can affect human and ecosystem health in countries far downwind. While it is difficult to quantify these influences, in some cases the impacts are significant from regulatory and public health perspectives."
The report examines four types of air pollutants: ozone; particulate matter such as dust, sulfates, or soot; mercury; and persistent organic pollutants such as DDT. The committee found evidence, including satellite observations, that these four types of pollutants can be transported aloft across the Northern Hemisphere, delivering significant concentrations to downwind continents. Ultimately, most pollutants' impacts depend on how they filter down to the surface.