Green Roofs Shown to Offset Warming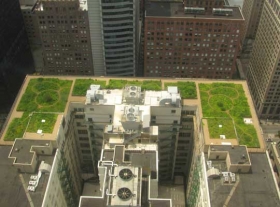 Filling rooftops with plants and dirt can help pull a modest amount of heat-trapping carbon dioxide out of the atmosphere, found a new study.
While green roofs certainly won't solve the global warming problem, their ability to sop up greenhouse gases -- even just a little bit -- bolsters the case for planting them on city buildings, despite extra costs on the front end, said lead researcher Kristin Getter, of Michigan State University in East Lansing.
"The key to fighting global warming is capturing carbon from the atmosphere and storing it in new reservoirs that weren't storing carbon before," Getter said. "In the whole scheme of things, green roofs are not the one answer to sequestering carbon, but they will certainly help."