Drinking From Plastic Bottles Raises BPA Levels by 70 Percent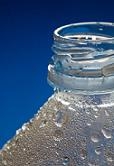 Drinking water from plastic bottles made with the toxic chemical bisphenol A (BPA) increases urinary levels of the chemical by nearly 70 percent, according to a study conducted by researchers from Harvard University and the Centers for Disease Control and Prevention.
BPA, an industrial chemical that makes plastics hard and transparent, is widely used in plastic drinking bottles, infant bottles and other consumer products, and also in resins that line cans of food and infant formula. The chemical has been shown to disrupt the hormonal system, potentially leading to reproductive defects as well as brain damage, cardiovascular disease, cancer, obesity and diabetes.
The study, conducted on 77 student volunteers, was published in the journal Environmental Health Perspectives.
Article continues: http://www.naturalnews.com/027236_BPA_health_disease.html