Blu Homes Completes Eco-Chalet in Colorado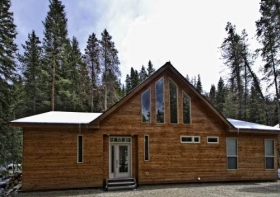 Prefab home designer Blu Homes has just completed a home in Colorado at the beginning of the October. The Fischer Chalet, a modern green prefab home in Breckenridge, Colorado, is a perfect example of what Blu Homes is capable of.
While designed as a custom home built with the Colorado climate in mind, the plans for this home will be standard Blu design by mid 2010. The Blu Chalet combines a simple and practical floor plan, with sustainable materials, lots of natural lighting and energy efficient design.
Natural daylighting from the multiple windows help lower energy use for lighting, which is already low because the interior lights are LEDs. The foundation is made from pre-cast concrete and foam, and a high efficiency furnace supplies the heating. Inside, cabinetry is built out of completely non-toxic materials, all appliances are ENERGY STAR and energy efficient, and the flooring is bamboo.
Article continues: http://www.lowimpactliving.com/blog/2009/10/26/blu-homes-completes-a-chalet-in-colorado/
Photo Credit: Michael Yearout