Rare Species Discovery Honors Wildlife Campaigner Steve Irwin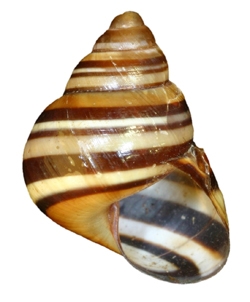 Queensland Museum scientist Dr. John Stanisic has named a rare species of tree snail discovered in north Queensland in honor of wildlife advocate and conservationist Steve Irwin. The snail, Crikey steveirwini, was found in the mountainous regions of north Queensland's Wet Tropics near Cairns.
Honorary Research Fellow Dr. Stanisic said that like its namesake, the Crikey steveirwini is a unique creature with some interesting qualities that set it apart from other land snails.
"This is an extremely rare species of snail," Dr. Stanisic said. "So far it has only been found in three locations, all on the summits of high mountains in far north Queensland and at altitudes above 1,000 metres which is quite unusual for Australian land snails."
"These mountainous habitats will be among the first to feel the effects of climate change and Steve Irwin's tree snail could become a focal species for monitoring this change."
"In contrast with its more drab coloured ground-dwelling relatives, Crikey steveirwini is a colourful snail, with swirling bands of creamy yellow, orange-brown and chocolate giving the shell an overall khaki appearance. "It was the khaki colour that immediately drew the connection to the late Crocodile Hunter," Dr Stanisic said.
Article continues: http://www.qm.qld.gov.au/news/release_detail.asp?entitynum=471
PHOTO CREDIT: QUEENSLAND MUSEUM