Ladybugs Taken Hostage by Wasps!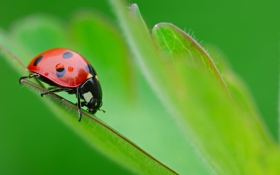 A ladybug's life isn't always an easy one, according to the following University of Montreal release:
Are ladybugs being overtaken by wasps? A University of Montreal entomologist is investigating a type of wasp (Dinocampus coccinellae) present in Quebec that forces ladybugs (Coccinella maculata) to carry their larvae. These wasps lay their eggs on the ladybug's body, a common practice in the insect world, yet they don't kill their host.
"What is fascinating is that the ladybug is partially paralyzed by the parasite, yet it's eventually released unscathed," says Brodeur, who is also a biology professor and Canada Research Chair in Biocontrol. "Once liberated, the ladybug can continue to eat and reproduce as if nothing happened."
Article continues: http://news.discovery.com/animals/ladybugs-taken-hostage-by-wasps.html