Momentum grows for Copenhagen climate deal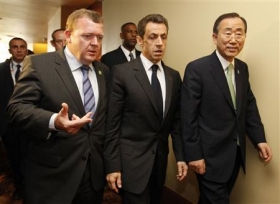 World leaders on Friday rallied to a diplomatic offensive to forge a U.N. climate deal in Copenhagen next month and U.N. Secretary-General Ban Ki-moon said an agreement was "within reach".
Ban, and Danish Prime Minister Lars Lokke Rasmussen who will host the December 7-18 U.N. climate talks, hailed what they portrayed as a growing international momentum toward a pact to curb greenhouse gas emissions and limit global warming.
"Our common goal is to achieve a firm foundation for a legally binding climate treaty as early as possible in 2010. I am confident that we are on track to do this," Ban told a summit of Commonwealth leaders in Trinidad and Tobago.
Photo shows Denmark's Prime Minister Lars Lokke Rasmussen walks with France's President Nicolas Sarkozy and United Nations Secretary General Ban Ki-Moon at the Commonwealth Heads of Government Meeting in Port-of-Spain November 27, 2009.
"Each week brings new commitments and pledges -- from industrialized countries, emerging economies and developing countries alike," he added.
"An agreement is within reach ... We must seal a deal in Copenhagen," Ban said. He, Rasmussen and French President Nicloas Sarkozy attended the summit of the 53-nation Commonwealth as special guests to lobby on Friday for international consensus on a climate pact.
Article continues: http://www.reuters.com/article/environmentNews/idUSTRE5AQ4W720091128