Real Christmas Trees are 'Greener' than Fake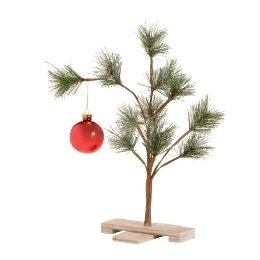 It may not sound like "tree-hugging," but cutting down a real tree for Christmas is actually greener than going with the artificial kind.
"It is a little counterintuitive to people," said Clint Springer, a biologist at Saint Joseph's University in Philadelphia.
Because of concerns over deforestation around the world, many people naturally worry that buying a real tree might contribute to that problem, Springer says. But most Christmas trees for sale these days are grown not in the forest but on tree farms, for the express purpose of being cut.
Moreover, from a greenhouse gas perspective, real trees are "the obvious choice," Springer told LiveScience.
Live trees actively photosynthesize as they grow from saplings, which removes carbon dioxide from the atmosphere. The tree farms that grew the trees also replant after the trees are cut.
Artificial trees, on the other hand, don't come out even in the carbon balance. Petroleum is used to make the plastics in the trees and lots of carbon dioxide-creating energy is required to make and transport them.
Article continues: http://www.livescience.com/environment/091210-christmas-tree-green.html