Oil Spill in Port Arthur Texas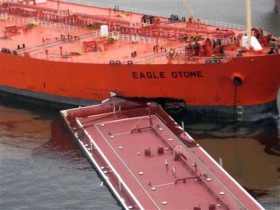 A barge collided with a tanker on Saturday in the port of Port Arthur, Texas, sending thousands of gallons of crude oil into the water, the U.S. Coast Guard said.

The tanker was carrying crude oil to Exxon Mobil Corp's refinery in Beaumont, Texas, located north of Port Arthur. The waterway, through which tankers carry oil to four refineries in Port Arthur and Beaumont, Texas, remained shut on Saturday night.
A 15-foot-by-8-foot (4.6 meter-by-2.4-meter) hole was torn in the side of the 807-foot (246-meter) tanker Eagle Otome in the collision with a barge being moved in the port, the Coast Guard said. No injuries were reported due to the crash.
Vapors from the estimated 450,000 gallons of spilled crude oil triggered warnings of a hydrogen sulfide release near the port where three refineries are located, leading authorities to recommend nearby residents leave their homes.
"I think about 12 people went to the shelter," said Port Arthur Police Chief Mark Blanton. "The vapors quickly dissipated."
The crude oil spill was being contained by booms put out by state and federal environmental agencies.
Article continues: http://www.reuters.com/article/idUSTRE60N0EI20100124