Volcano erupts in Iceland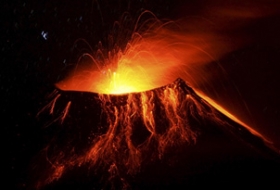 A volcano erupted in the south of Iceland overnight, forcing hundreds of people to evacuate the area and diverting flights after authorities declared a state of emergency, officials said on Sunday.

Shortly before midnight, the Eyjafjallajokull glacier, the island's fifth largest, started to spew smoke and lava from several craters along a rift which is popular with hikers.

Police sent rescue teams to evacuate about 500 people living in the rural area near the site. No injuries or damage to property were reported. Three Red Cross care centres were opened in nearby villages to assist the evacuated population.
"The evacuations have gone smoothly," said local police chief Kjartan Thorkelsson, adding there was no indication the volcano presented any immediate danger to people.
The volcano spewed lava and threw up a plume of smoke about one kilometer high. There was little threat of flooding unless the eruption grew in scope and began to melt large amounts of ice on the glacier, police said.
Flights to and from Iceland were canceled due to the risk that clouds of ash could interfere with navigation, with flights from the U.S. cities of Orlando and Seattle diverted to Boston until later in the day.
Some 1,300 travelers were stranded in airports in Iceland and abroad, the Civil Authority said, adding all flights were expected to start taking off later in the day.
Article continues: http://www.reuters.com/article/idUSTRE62K0CF20100321