Commercial cooking elevates hazardous pollutants in the environment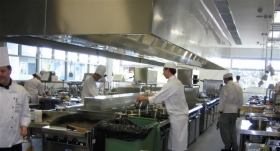 SAN FRANCISCO, March 23, 2010 — As you stroll down restaurant row and catch the wonderful aroma of food — steaks, burgers, and grilled veggies — keep this in mind: You may be in an air pollution zone. Scientists in Minnesota are reporting that commercial cooking is a surprisingly large source of a range of air pollutants that could pose risks to human health and the environment. They discussed the topic here today at the 239th National Meeting of the American Chemical Society. 
Deborah Gross, Ph.D., pointed out that commercial food cooking is a known source of air pollutants, including gases and tiny solid particles — as is cooking in the home. "While that mouth-watering smell may whet our appetites, it comes from the emission of smoke from the cooking process into the air that we breathe," Gross said. Research conducted in the U.S. during the past decade has shown that cooking is by far the largest source of respirable particles generated in the home, as well. "Exposure to high concentrations of these particles is common."
Gross, who is with Carleton College in Northfield, Minn., has been working with colleagues Tom Kuehn, Bernard Olson, and Dabrina Dutcher of the University of Minnesota to define the specific contribution that commercial cooking makes to air pollution. The project, also involving Carleton undergraduate student Lisa Wang, already has resulted in two air quality management districts in California implementing restrictions on commercial cooking emissions. They are the South Coast and Bay Area Air Quality Management Districts. Much of the Los Angeles Basin now requires the use of catalytic converters to minimize the release of aerosol particles from charbroiler grates.
Article continues: http://www.eurekalert.org/pub_releases/2010-03/acs-cce030810.php