Cooling Towers for Indian Point?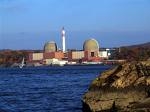 Entergy Corp was denied a request for a water-quality certification for its Indian Point nuclear power plant in New York, setting back efforts for a 20-year renewal of its license to operate the controversial plant.

The company said on Sunday it plans to appeal the decision by New York State's Department of Environmental Conservation.
The state on Friday concluded that the plant's cooling systems, whether operated as they have been for decades or modified under a proposal by Entergy, "do not and will not comply with existing New York State water quality standards."

Entergy said the ruling could force it to spend $1.1 billion over 19 years to build new cooling towers.
The ruling could alternatively result in a closure of Indian Point's two operating reactors, which supply a large amount of electricity used in New York City and adjacent Westchester County.
A water quality certificate would run concurrently with the proposed 20-year license extension that Entergy is seeking from the U.S. Nuclear Regulatory Commission.
"We're disappointed in the notice of denial, but we expect to have an opportunity to convince the DEC it made a mistake," Entergy spokesman Jim Steets said on Sunday. He said Entergy has 30 days to request a public hearing.
Indian Point is located about 40 miles north of Manhattan. Critics of the plant have long complained that a disaster, whether resulting from plant operations or an act of terrorism, could threaten the safety of millions of people.
The president of environmental group Riverkeeper, Alex Matthiessen, in a statement called the ruling a turning point in efforts to stop Indian Point's "environmental assault on the Hudson River and force the plant's early retirement due to the risks its continued operation poses to public health and safety."
Article continues: http://www.reuters.com/article/idUSTRE63314X20100404