Masdar: Abu Dhabi's carbon-neutral city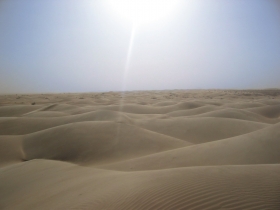 The oil-rich United Arab Emirates is the last place you would expect to learn lessons on low-carbon living, but the emerging eco-city of Masdar could teach the world.
At first glance, the parched landscape of Abu Dhabi looks like the craziest place to build any city, let alone a sustainable one.
The inhospitable terrain suggests that the only way to survive here is with the maximum of technological support, a bit like living on the moon.
The genius of Masdar - if it works - will be combining 21st Century engineering with traditional desert architecture to deliver zero-carbon comfort. And it is being built now.
Masdar will be home to about 50,000 people, at least 1,000 businesses and a university.
It is being designed by British architects Foster and Partners, but it is the ruler of Abu Dhabi, Sheikh Khalifa bin Zayed Al Nahyan, who is paying for it. And it will cost between £10bn ($15bn) and £20bn ($30bn).
Renewable energy
The architects are turning the desert's greatest threat - the sun - into their greatest asset.
They have built the biggest solar farm in the Middle East to power the city and to offset the inevitable burning of diesel and baking of cement in construction.
They are also experimenting. One project involves a circular field of mirrors on the ground, all reflecting towards a tower in the middle.
That, in turn, bounces the light down in a concentrated beam about a metre (3ft) wide to produce heat and drive generators.
But I was told firmly not to wander over and feel the warmth, as it could fry me in seconds.
The international team of engineers have real pride in their work.
Article continues: http://news.bbc.co.uk/2/hi/middle_east/8586046.stm