Gulf of Mexico spill may hit coast this weekend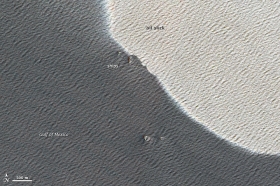 A giant oil slick from a deadly offshore drilling rig explosion could hit the fragile U.S. Gulf Coast shoreline this weekend as the White House and Congress launched separate probes into the worst offshore incident in nearly a decade.

The leaking well, 5,000 feet under the ocean surface off Louisiana's coast, has created an oil sheen and emulsified crude slick with a circumference of about 600 miles, covering about 28,600 square miles (74,070 sq. km), the Coast Guard said on Tuesday. That's slightly bigger than the U.S. state of West Virginia.
Swiss-based Transocean Ltd's Deepwater Horizon sank on April 22, two days after it exploded and caught fire while finishing a well for BP Plc about 40 miles southeast of the mouth of the Mississippi River.
The Coast Guard is using eight underwater robots to try to activate a cutoff valve on the ocean floor to stop the oil flow. The Coast Guard is also weighing a plan to set the oil ablaze where it is bubbling to the surface above the well in an attempt to arrest the spread, starting as soon as Wednesday.
If unchecked, "this could be one of the most significant oil spills in U.S. history," said Coast Guard Rear Admiral Mary Landry, who is heading the federal cleanup effort.
However, the spill is not comparable with the infamous Exxon Valdez disaster, which spilled about 11 million gallons (50 million liters) of oil into the Prince William Sound in Alaska when it ran aground in 1989. BP's well is spewing about 42,000 gallons (190,900 liters) of oil a day into the ocean, the Coast Guard estimates.
It was the worst oil rig disaster since 2001, when a rig operated by Petrobras off the Brazilian coast exploded and killed 11 workers.
London-based BP Plc, which owns the well and is financially responsible for the cleanup, is spending $6 million a day on a massive on-sea clean-up effort that involves dozens of ships and aircraft.
Article continues: http://www.reuters.com/article/idUSTRE63Q4NF20100427