Calm U.S. Gulf weather aids spill fight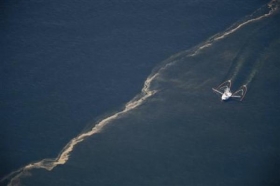 Oil spill workers raced against time in the Gulf of Mexico, hoping to seize on at least one more day of calm in their fight to contain a huge and growing slick before winds turn against them.

Cleanup crews along the U.S. shore have had a few days' reprieve as the slow-moving slick, from oil spewing from a damaged deep-water well, remained parked in waters that for now are placid.

"The winds are helpful to us, but on Thursday they begin to be less helpful," Louisiana Governor Bobby Jindal said in New Orleans.
BP, under heavy pressure in Washington since a deadly April 20 rig explosion triggered the breach in its well, has scrambled to plug the gushing undersea leak threatening coastal fishing and tourism and reshaping the U.S. political debate on offshore drilling.
BP shares recovered on Tuesday, gaining 0.6 percent, after almost two weeks of drops that wiped more than $32 billion from the company's market value. The STOXX Europe 600 Oil and Gas index rose 0.3 percent on Tuesday.
U.S. oil prices tumbled 4 percent to $82.44 a barrel as traders played down the threat to production and shipping.
The company expects a giant steel containment device, fabricated in Port Fourchon, Louisiana, and designed to be placed over the biggest of three leaks on the seabed, to be shipped out toward the site on Wednesday and to be operating in the next six days.
BP has also started drilling a relief well, but that could take two or three months to complete.
On Tuesday, as part of the biggest oil-containment operations attempted, nearly 200 boats tackled the slick by laying down and repairing miles of boom lines along Gulf shores. The slick is estimated to be at least 130 miles by 70 miles in size.
Article continues: http://www.reuters.com/article/idUSTRE6430AR20100505