BP reduces estimate of how much oil it is capturing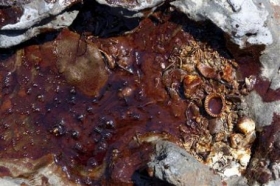 BP sharply reduced its estimate on Monday of how much oil it is siphoning off each day from a ruptured well in the Gulf of Mexico that has been spewing oil for a month and threatening ecological disaster.

The British-based energy giant said the oil captured on average by a mile-long siphon tube was 2,010 barrels (84,420 gallons/319,500 liters) per day in the six days before May 23, less than half the up to 5,000 barrels (210,000 gallons/795,000 liters) per day the company estimated it had been capturing. At times the capture was as low as 1,360 barrels per day (57,120 gallons/216,200 liters).

The oil group believes about 5,000 barrels have been leaking every day, although some experts have given significantly higher estimates for the size of the leak.
The lower estimate came as two members of U.S. President Barack Obama's Cabinet were to visit the fouled Gulf Coast on Monday to keep pressure on BP in hopes of averting a looming environmental catastrophe.
The Obama administration warned the company on Sunday that it would be removed from efforts to seal the well if it is not seen as doing enough. But it acknowledged that only the company and the oil industry have the know-how to stop the leak.
BP is readying new measures to try to stop the gushing torrent of oil that began after an April 20 explosion sank the Deepwater Horizon rig, killing 11 workers.
BP shares have taken a beating in the markets since the accident. On Monday its share price fell 1.9 pct, with sentiment hit by renewed pressure from the Obama administration.
But today's news on the bill and the amount of oil the company is siphoning off remains within existing estimates. The market looks squarely focused on BP's effort in the next few days to plug the well completely. "We had the initial euphoria on Thursday that it was doing 5,000 (barrels) and then they revised down the numbers and there was a bit of concern about exactly how much crude was coming out. I think the market was very much aware of this one," said Panmure Gordon analyst Peter Hitchens.
"Really what everyone's waiting for is the top kill operation which should be coming up in the next couple of days hopefully. Touch wood. That really is the key: whether they can actually kill off this well."
Article continues: http://www.reuters.com/article/idUSTRE6430AR20100524