Gulf Coast warned oil may leak until August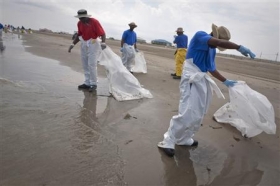 U.S. government and BP officials are warning that the blown-out oil well causing an environmental disaster on the Gulf Coast may not be stopped until August as the company begins preparations on a new attempt to capture the leaking crude.

The disaster, in its 42nd day on Monday, is already the largest oil spill in U.S. history and officials are calling it the country's biggest environmental catastrophe.

In the wake of a devastating failure this weekend to plug the BP well with the tricky "top kill" operation, BP Chief Executive Tony Hayward said the Gulf of Mexico leak may not be stopped for two months.
"There's no doubt that the ultimate solution lies on the relief well, which is in August," he said on Sunday as he toured the Louisiana fishing hub of Venice, largely idled by the spill.
The drilling of two relief wells began in May, an expensive but reliable way to intercept and cap the leaking well that ruptured with a deadly rig explosion on April 20.
In the meantime, Hayward said BP needs "to be in the mind-set of containment in the sub-sea, containment on the surface and defending the shoreline, in a very aggressive way."
The Gulf spill has surpassed the Exxon Valdez disaster off Alaska in 1989 as the worst U.S. oil spill, with an estimated 12,000 to 19,000 barrels (504,000 to 798,000 gallons/1.9 million to 3 million liters) leaking per day.
Right now, BP is preparing a containment cap to place on top of a lower marine riser package (LMRP), which is a piece of equipment that sits atop the failed blowout preventer at the seabed one mile below the surface.
Photo shows workers contracted by British Petroleum (BP) picking up tar balls from the Deepwater Horizon oil leak along a beach in Grand Isle, Louisiana May 30, 2010.
Credit: REUTERS/Lee Celano
Article continues: http://www.reuters.com/article/idUSTRE6430AR20100531