Hurricane Alex could make land late Wednesday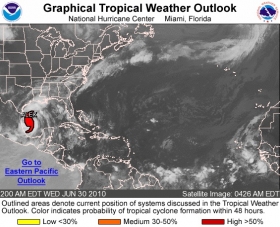 Hurricane Alex strengthened in the Gulf of Mexico early on Wednesday and was expected to make landfall later in the day but skirt Mexican oil rigs and U.S. oil fields, alleviating concerns in crude markets.

The first named storm of the Atlantic season became a Category 1 hurricane late Tuesday night as it slowly moved west toward northern Mexico where it was expected to drop as much as a foot of rain.

While the storm was forecast to miss major oil drilling sites, rough seas and rain were already hampering efforts to control damage left by an ongoing spill from the major leak at a BP Plc facility south of Louisiana.
Waves as high as 12 feet were expected to delay for several days the company's plans to hook up a further system to capture much more oil from the blown-out oil well.
Controlled burns of crude on the oil's surface, flights spraying dispersant chemicals and booming operations were all halted on Tuesday, officials said.
The storm was not expected to interrupt the company's plans to drill a pair of relief wells intended to plug the leak by August, BP has said.
Some energy companies evacuated personnel and shut down some production as a precautionary measure.
Forecasters expected Alex to make land on Wednesday night, bringing 6 to 12 inches of rain to northeastern Mexico and southern Texas as well as dangerous storm surges along the coast.
Alex was packing winds of 80 mph and was located about 235 miles southeast of Brownsville, Texas. It was moving west at 7 mph, the U.S. National Hurricane Center said at 5 a.m. EDT.
Image shows latest information from the National Hurricane Center on Alex.
Article continues: http://www.reuters.com/article/idUSTRE65P0UL20100630