Kyoto may push factories to pollute more: U.N. report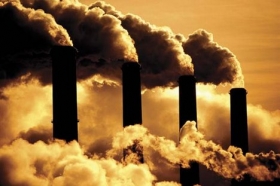 (Reuters) - A Kyoto Protocol scheme may be encouraging projects to emit more greenhouse gases because of incentives to earn carbon offsets from subsequently destroying these, a U.N. report said.
The projects under investigation are the most lucrative under Kyoto's Clean Development Mechanism (CDM) and account for more than half carbon offsets sold under the scheme. Limiting their output could impact carbon prices.
The $2.7 billion scheme allows companies and countries in the industrialized world to meet carbon caps by funding emissions cuts in developing nations, earning offsets called certified emissions reductions (CERs).
"There is a strong incentive to ... not improve the efficiency of the plant ... during any refurbishment because of the CDM benefits," said the report published late on Thursday.
"Further investigation is required ... to identify situations in which overestimation of CERs occurs and improve the methodology accordingly," it added.
The U.N. methodology panel advises the scheme's supervisory executive board on what types of carbon-cutting projects qualify for offsets.
It asked the board for "guidance on possible action" at its next meeting from July 26-30. Three out of 10 board members can form a blocking minority, making decisive action unlikely, said one carbon market expert on condition of anonymity.
The investigation was sparked when a green group earlier this year made a submission to the board saying said that the most profitable CDM projects, which destroy a potent greenhouse gas called hydrofluorocarbon-23 (HFC-23), were emitting more HFCs than necessary in order to destroy these and sell more CERs.
Article continues: http://www.reuters.com/article/idUSTRE6611VP20100702