BP to test new cap on leaking well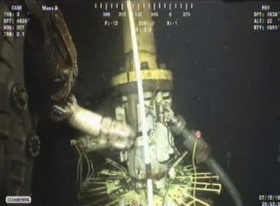 BP prepared on Tuesday to try sealing off its runaway well with a new cap that it says could for the first time in 12 weeks finally arrest the flow of oil spewing from the floor of the Gulf of Mexico.

The British energy giant has suffered numerous setbacks in its struggle to control the 85-day-old gusher that stands as the worst offshore oil spill in U.S. history. And BP cautioned that tests of its latest containment system were not sure to succeed.
But BP shares, battered for weeks as damage to the U.S. Gulf Coast economy and cleanup costs mounted, surged nearly 8 percent in New York on Monday by promising developments at sea and by news that U.S. energy company Apache Corp and other bidders were in talks to buy up to $10 billion worth of BP assets.
The potential breakthrough in efforts to fully contain BP's ruptured wellhead also came as the Obama administration issued a revised moratorium on deep-water oil drilling that critics called a mere repackaging of an earlier ban struck down by the courts.
The prospect of legal battles over the administration's bid to suspend deep-sea energy exploration in the Gulf already has had a chilling effect on drilling, putting tens of thousands of jobs at risk, industry officials and analysts said.
Photo shows a section of the new containment cap during capping stack operations at the site of the Deepwater Horizon oil spill in the Gulf of Mexico, in this frame grab captured from a BP live video feed July 12, 2010. BP said it had installed a cap meant to halt the flow of oil from its ruptured Gulf of Mexico well on Monday.
Article continues: http://www.reuters.com/article/idUSTRE65O5TA20100713