Elevated Ozone in New England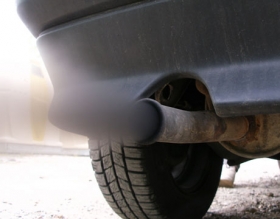 This past June and July have been some of the hottest months ever for the northeastern United States. The unwelcome heat wave has not only raised the mercury, but also the concentration of ground-level ozone. The Environmental Protection Agency (EPA) has predicted that the elevated ozone will significantly decrease air quality in parts of Connecticut, Massachusetts, and Maine.
Temperature and humidity have a large role in how much ozone is produced, and this summer has seen its share of both. In fact, ozone production is almost doubled when the ambient air is very humid rather than very dry. So far in 2010, New England has had 19 days in which ozone concentrations exceeded the 2008 ozone air quality health standard set by the EPA which is 0.075 parts per million.
Hot, sticky conditions also add to overall energy usage, and the burning of fossil fuels is a primary source for ozone. First of all, it is the heart of the summer driving season, so there are more cars on the road. Most of the cars are cranking up the air conditioning which requires more gasoline combustion. Also, more small motors are being used such as lawn mowers, leaf blowers, dirt bikes, etc. Furthermore, there are also lots of power boats out on the water which can consume large quantities of fuel. Last of all, energy use in buildings has increased due to air conditioning, so power plants have ramped up operations.
Add to this mix an abundant number of sunny days (ozone is formed by reaction of gas emissions to sunlight), and you get the perfect storm of ozone formation in the northeast. Elevated levels of this air pollutant can cause serious breathing problems, especially for those with a history of respiratory dysfunction. People must be mindful of the situation should they have to perform outdoor work.
"As this hot summer weather continues, we're expecting another day tomorrow where parts of New England will experience unhealthy air quality," said Curt Spalding, regional administrator of EPA's New England office. "When air quality is unhealthy, EPA and the medical community suggest that people limit their strenuous outdoor activity."
The EPA encourages people to take the following actions to help reduce ozone/smog:
- Decrease driving (use public transit, car pool, combine trips)
- Refuel cars at night (gasoline vapors react with sunlight to form ozone)
- Avoid using small gasoline powered engines (lawn care, recreational vehicles)\
- Set air conditioning thermostats a few degrees higher
To stay informed, go to the EPA Region 1 Air Quality Forecast Site.