Cook Green with Bryan Au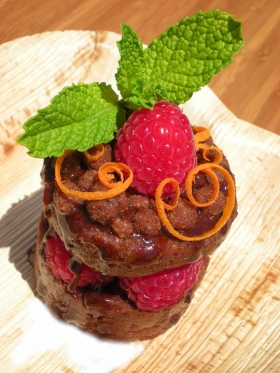 Celebrity Chef Bryan Au has created an iPhone and iPad app that helps users create Eco Green meals using recipes for unexpected menu items like, fast foods, junk foods and comfort foods. Using this app, it is possible for users to make food that is healthy for you and the planet while only taking a few minutes to make. Since there is no cooking it does not add to greenhouse gas emissions from cooking, and the recommended ingredients are Organic, local and seasonal as well.
Although all the recipes in Eco Chef App are vegetarian and vegan, it was actually designed for everyone or anyone to enjoy regardless of their diet. It is healthy to add more fruits and vegetables in your diet regardless of what people prefer to eat. Bryan designed this recipe and celebrity chef app to be fun to use. It has a number of features, photos, videos, there is something for everyone from kids, teens, college students, adults, families and seniors.
Celebrity Chef Bryan Au may be the only Chef in the World who doesn't cook anything! So if you can't cook or don't have time to cook, then great! Try some of these recipes and discover a whole new eco gourmet world. Bryan notes that they are even safe for kids to make (with supervision) too. Because there is no cooking there are no fossil fuels being used, so the food created has a near zero carbon footprint, the flavors are vibrant, the nutrition is intact, but best of all, Bryan notes that health benefits can be felt quickly, making you want to go further with Raw Organic Cuisine. What gets most people excited are the RAW Desserts.
Some new recipes include: 5 Minute Chocolate Cake, 2 minute Donuts, 2 minute Cupcakes, "Pepperoni Pizza", totally new Fruit Desserts and Category that Chef Bryan Au invented, new Raw Spa Cuisine, Spanish Lasagna, Mango "Cheesecake".
Bryan's best selling recipe books and DVDs are available on Amazon.com worldwide and his new $2 Eco Chef App for the iPhone, iPod and iPad is enjoying great success, and is getting praise and recommendations from fans and major media alike. It reached #4 on iTunes App Store, was recently featured in the WHAT'S HOT front section of iTunes App Store with 5 Star Ratings and Reviews.
Photo shows 5 Minute Raspberry Chocolate Cinnamon Crumb Cake.

For more information: http://itunes.apple.com/us/app/eco-chef-10-minute-meals-bryan/id376757361?mt=8