From machete to machine in Brazil's cane fields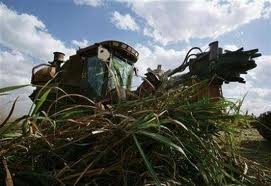 For nearly five centuries, the classic image of sugar production in Brazil has been one of workers setting cane fields on fire and then descending on the crop with their machetes for harvest.  No longer.
More than half of the cane in Brazil's main sugar-producing area of Sao Paulo state was harvested using machines during the 2009/10 season, a historic first that portends greater efficiency in coming years. The shift is occurring so quickly that some producers face a four-month waiting list to get the right equipment.
The transition, driven by both increased competition and tougher Brazilian environmental laws, has been a boon for multinational equipment manufacturers supplying the world's leading producer of sugar and the second largest ethanol producer after the United States.
"Brazil's market is hot," said Jose Emilio dos Santos, manager of Tratorag Comercio e Representacao, a John Deere dealer based in Piracicaba, the heart of the center-south's cane growing region in Sao Paulo state. "Many producers are looking to buy a new machine harvester."
Last year, Cosan, the world's largest sugar and ethanol producer, spent 30.5 million reais ($17.3 million) on mechanization and expects to train between 180 and 200 harvester operators per year for the next four years, said Luis Carlos Veguin, the company's human resources director.
Adoption of the technology by big firms has forced many smaller producers to follow suit. In the first six months of 2010, 3,186 harvesters of all types were sold in Brazil, up from 478 in the same period of 2006, according to figures from Anfavea, the vehicle manufacturer's association.
It's not just companies that are benefiting from the switch. Izaura Freitas Souza, 39, has wielded a machete in the sugar cane harvest since she was a 15 year old and once almost sliced off her big toe in the fields.
Today, Souza drives a harvester for Cosan in Piracicaba and says she has tripled her earnings to 1,800 reais a month, which allows her to save to buy a house. "It is clean work now," she said, "without the physical wear and tear."
Initial investment in a harvester is expensive but over time is a cheaper alternative to manual labor because wages have been rising in tandem with Brazil's economy, Veguin said.
A new cane harvester from John Deere costs an average 880,000 reais, said dos Santos, the tractor dealer. The company's main competitor in Brazil is Case IH, a subsidiary of CNH Global.
For smaller sugar cane producers who are unable to afford the initial investment, the situation can be dire. Unable to compete with the efficiency of the bigger players, some have been forced to enter into partnerships with Cosan or Bunge, or logistics companies, like Julio Simoes.
"Banks request guarantees and the cost of a harvester is quite high," dos Santos said. "Not all producers can provide sufficient collateral."
Mechanization is given urgency by environmental laws, which will effectively phase out manual cane cutting in Sao Paulo state by 2017.
Before manual harvesting begins, workers set fields alight to clear the undergrowth and flush out snakes and insects.
Reducing burning is a priority for producers because the method is a blot on otherwise impressive environmental credentials -- Brazilian ethanol from cane is about six times more energy efficient than its U.S. corn-derived counterpart -- and they have introduced more stringent schedules.
"We have a 100 percent target for the elimination of burning (in areas suitable for mechanization in Sao Paulo state) for 2014," said Antonio de Padua Rodrigues, a director at Unica, the cane industry association.
Article continues: http://www.reuters.com/article/idUSTRE67J2MK20100820