Fireplaces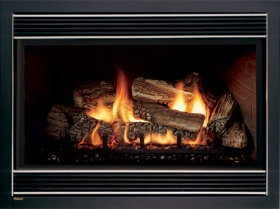 Keep the home fires burning–cleanly and efficiently
Let's say you have a basic wood-burning fireplace. Charming as it may be, this old-fashioned device pollutes the air and sends a large amount of its heat roaring out the chimney. But there's no need to get rid of your old fireplace. You can insert an energy-efficient gas-burning fireplace. Many models produce the same comforting yellow-orange flames that you enjoy in a wood fireplace and even contain "logs" made of fireproof material so realistic you would have to look closely to tell the difference. And you don't have to bother with wood and ashes.
Gas fireplaces are usually meant to heat an individual room rather than an entire house. But some models can put out 40,000 Btu–as much as some furnaces. If you have a small house, this could be enough heat for all the rooms.
Another option for those who relish the ambiance of a fireplace but don't want the additional pollution that wood-burning flames often emit is an electric fireplace. Reasons electric fireplaces make good environmental sense are: there is no air exchange, no emissions, and no consumption of wood or burning of fossil fuels. There are eco-fireplaces in the marketplace that can operate with or without heat, are extremely energy efficient, and require minimal maintenance and operational fees. Both gas and electric fireplaces are viable choices when greening your home.
Top Tips
When shopping, look for
* Energy efficiency. Like the other types of heating systems we discuss, gas fireplaces are rated by the amount of heat they can produce in British thermal units, or Btu, and by their efficiency. The higher the efficiency, the less the unit will cost to operate. Once the heater is up to the desired temperature, some gas models convert almost 90% of the gas they burn into usable heat. In comparing fireplaces and stoves, you should also consider their Annual Fuel Utilization Efficiency (AFUE), which is a measure of the average efficiency.
Article continues: http://www.sierraclubgreenhome.com/go-green/heating-ventilation-air-conditioning-hvac/fireplaces/