Hurricane Igor heads toward Bermuda - batten down the hatches!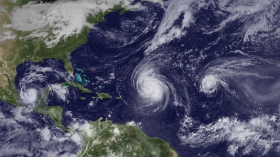 Hurricane Igor approached Bermuda on Saturday packing powerful winds and heavy rains as the island's premier warned residents to prepare for "one of the worst hurricanes to ever threaten our shores."
Squalls were spreading across the British overseas territory as the center of the Category 2 storm moved to within 285 miles of the tiny island en route to what local forecasters called a "direct hit" on the wealthy hub for the global insurance industry.
The U.S. National Hurricane Center forecast that Igor's center would pass over or near the island late on Sunday or early on Monday, but that conditions would deteriorate on Saturday night, with hurricane conditions expected as early as Sunday afternoon.
Igor was "expected to remain a dangerous hurricane" as it approached Bermuda, the Miami-based hurricane center said in its 11 p.m. advisory. It predicted total rainfall accumulations of 6 to 9 inches over Bermuda and that the storm could produce significant coastal flooding and large, destructive waves, particularly along the southern coast.
Bermuda Premier Ewart Brown said people were frightened as the storm approached.
"Today we stand on the eve of the arrival of one of the worst hurricanes to ever threaten our shores," Brown told a news conference. "Our country and our people have throughout our history rarely faced the full fury of a storm of this magnitude. And as a people, we will continue to pray that once again we will be spared."
Satellite photo show three active Atlantic hurricanes, Igor, Julia, and Karl.  Credit, NOAA
Article continues: http://www.reuters.com/article/idUSTRE68E1T820100919