US delays approval for fast-growing GM salmon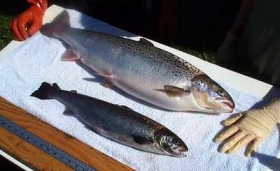 A spokesperson for the Food and Drug Administration (FDA) said this week that there was no timeline on a decision on the application and that a decision was likely to be months away. As well as deciding whether it is safe for human consumption the government body is also debating about whether it should be labeled as GM.
Despite the delay, campaigners say an approval for the salmon is likely, with stocks expected to be on supermarket shelves in the US by 2012.
In a briefing document published this week the FDA concluded: 'the food from AquAdvantage Salmon (the triploid ABT salmon) that is the subject of this application is as safe as food from conventional Atlantic salmon, and that there is a reasonably certainty of no harm from the consumption of food from this animal.'
UK campaigners said there was not enough evidence to prove 'unequivocally' that GM products have no side effects despite a Food Standards Agency (FSA) claim that GM foods are subject to 'rigorous safety assessments'.
Article continues: http://www.theecologist.org/News/news_round_up/605861/us_delays_approval_for_fastgrowing_gm_salmon.html