When Pigs Fly: Halliburton Makes the Dow Jones Sustainability Index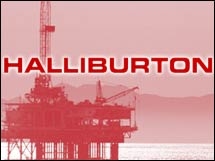 When we think of companies that stand out as role models of exceptionally responsible behavior in the realm of sustainability, Halliburton is hardly one of the first to spring to mind. Which is why I was a little surprised to learn that "the company we love to hate" was just named to the Dow Jones Sustainability Index (DJSI) as both a North American and a World leader. This means that they were considered to be in the top 10% among companies in the oil field services sector.
Though the circumstances seem somewhat dubious, the selection was made, according to DJSI, based on "thorough analysis of corporate economic, environmental and social performance, assessing issues such as corporate governance, risk management, branding, climate change mitigation, supply chain standards and labor practices." The DJSI focuses on how a company recognizes the risks and opportunities arising from sustainability issues in its business strategy as well as the company's economic, environmental and social impacts.
Halliburton was selected as one of seven world leaders and two North American leaders out of forty companies that applied, winning best in class for Human Capital Development, Standards for Suppliers, Corporate Governance, and Customer Relationship Management. These rankings were apparently enough to overcome lower scores in the environmental and social categories.
There is a bit of an irony here, in that Halliburton's addition to the index fills a vacancy that occurred when BP was removed based on an "extraordinary events" clause in the index guidelines. According to a DJSI press release back in June, "The extent of the oil-spill catastrophe in the Gulf of Mexico and its foreseeable long-term effects on the environment and the local population — in addition to the economic effects and the long-term damage to the reputation of the company — were included in the analysis leading up to BP's removal."
Article continues: http://www.triplepundit.com/2010/09/when-pigs-fly-halliburton-makes-the-dow-jones-sustainability-index/